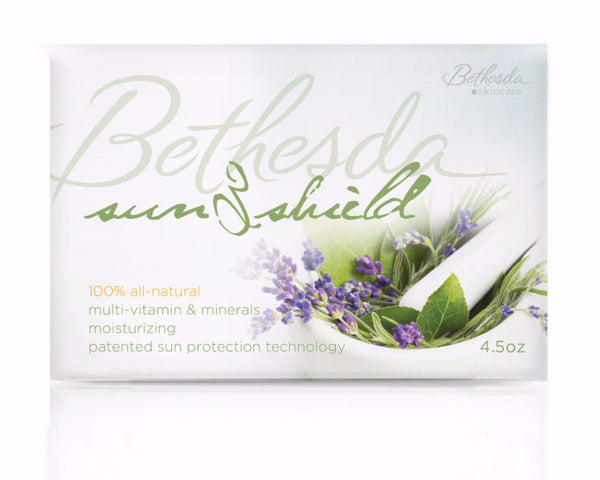 Sun & Shield Soap
100% All-Natural - This unique soap utilizes all-natural moisturizers, essential oils, vitamins and minerals with our patented sun protection technology. Olive Oil, Rosemary Oil and Aloe Vera Gel are excellent natural moisturizers.  Balm of Gilead, Lavender Oil, Rose Geranium Oil and Chlorophyll have historically been used as healing agents. This vitamin enriched soap contains no artificial fragrances, no fillers, no binders, and no artificial colorings.
Sun & Shield soap fortifies and defends the skin and also provides a new way to receive daily vitamin and essential nutrients through your skin. Try it and we hope that it will be life changing as it has been for our loyal cancer patients.
Bethesda Sun & Shield is NOT a substitute for standard sunscreen products. It is intended for "everyday" use and should not be relied on as the primary source of protection from the sun. Bethesda Sun & Shield should be used in conjunction with your regular sunscreen product prior to exposure to the sun.

Ingredients: Sodium Palmate, Sodium Cocoate And/or Sodium Palm Kernelate, Water, Glycerin, Citrus Medica Limonum (Lemon) Juice, Chlorophyllin, Multi-vitamin (Vitamin A, Vitamin B6, Vitamin B12, Vitamin C, Vitamin D, Vitamin E, Vitamin K, Biotin, Folic Acid, Niacin, Pantothenic Acid, Riboflavin, Thiamine, Calcium, Chromium, Copper, Iodine, Iron, Magnesium, Manganese, Molybdenum, Phosphorus, Potassium, Selenium, Zinc, Amino , Alanine, Arginine, Aspartic Acid, Carnatine, Cystine/cysteine, Glutamic Acid, Glycine, Histidine, Isoleucine, Lysine, Leucine, Methionine, Phenylalanine, Proline, Serine, Threonine, Tryptophan, Tyrosine, Valine, Barley Grass, Betaine, Bioflavanoids, Calcium Caseinate, Choline, Co-enzyme Q10, Flax Seed, Fos, Gingko Biloba, Grapeseed Extract, Hesperidin Complex, Inositol, Kelp, Lecithin, Lemon Bioflavanoids, Lutein, Paba, Papain, Phytochemicals, Reishi, Rice Bran, Rice Protein, Rutin, Silicon, Sulfur, Whey Protein), Zinc Oxide, Olea Europaea (Olive) Fruit Oil, Commiphora Gileadensis (Balm Of Gilead) Extract, Aloe Barbadensis (Aloe) Leaf Juice, Titanium Dioxide, Lavandula Angustifolia (Lavender) Oil, Rosmarinus Officinalis (Rosemary) Oil, Pelargonium Roseum Asperum (Geranium) Oil, Sodium Chloride, Pentasodium Pentetate, Tetrasodium Etridronate.

Jamie's Story
Our story starts with my Daddy having skin issues from being out in the sun while working on his farm in Northern Alabama. He refused sunscreen because the smell and the nuisance of applying it. Also, I became very ill and could no longer tolerate traditional soaps, sunscreen or supplement powders. I then decided to work with a combination of natural therapeutic ingredients to add some protection to work with a multi-vitamin powder in a soap bar. The skin being the largest organ of the body, why not a therapeutic multi-vitamin soap with zinc oxide and titanium oxide for the skin that can be used in your routine hot shower. And that is how the JOY of Bethesda Skincare came to be--I am happy to report that from the oldest member of my family to my youngest daughter uses Bethesda Sun & Shield.